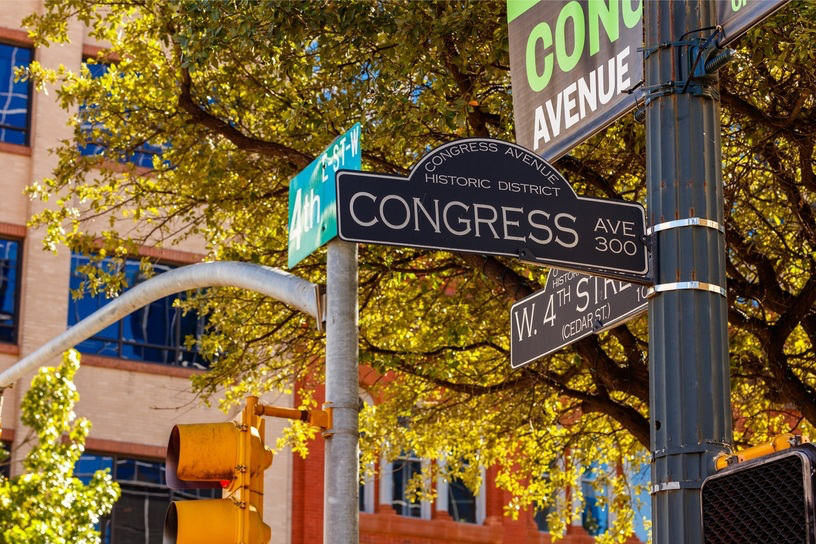 We've given East Austin its fair share of email exposure, now it's time to venture down to the south side! South Austin offers a huge variety of lifestyle options from the "keepin' it weird" South Congress area close to downtown to the more family-oriented neighborhoods down in Far South Austin. No matter what you're looking for, you're certainly sure to find it! Let's explore some of the highlights and hidden gems of South Austin.
1. Food. So this would not be an Austin-centric publication if we ignored the first thing on everyone's mind: food! Far-south Valentina's Tex-Mex BBQ is certainly not to be missed. Roll up to this Austin staple to enjoy hearty (and we mean hearty!) pulled pork, brisket, chicken, and a variety of other offerings stacked up high in ultimate taco form on your favorite tortilla. Lenoir is also a not-to-be-missed foodie destination that boasts Texas-sourced ingredients (à la heirloom tomatoes and grilled quail) and a delicious four-course tasting menu. Be sure to make reservations, as this tiny restaurant fills up quickly!
2. Neighorhoods. As mentioned before, the South Austin neighborhoods are numerous and varied, and there is certainly something for everyone. The neighborhood of Circle C Ranch could be a great place to look for a home right now, offering exemplary public elementary schools (like Kiker Elementary and Mills Elementary) and a robust choice of home styles for those families or individuals looking to upgrade from their starter home. Similarly, the neighborhood of Onion Creek, just 10 miles from downtown, offers a bit of privacy from Austin's hustle and bustle. Jump in on your search now, as homes in Circle C Ranch and Onion Creek are hot commodities!
3. Outdoor Life. The great outdoors are as iconic to the Austin lifestyle as -- well -- tacos! A great hiking option for casual hikers and families is a short section of trail right off the Green Belt called the Hill of Life. Located in a neighborhood just across 360 from Westlake High School, Hill of Life is a fun and rocky staircase-like bit of rough terrain that's much easier on the way down than it is on the way up! It stands as a great workout and fun way to get outside by itself, but its proximity to some great swimming in the Green Belt creek system makes it that much more rewarding on a hot summer's day. Zilker Park is also one of South Austin's not-so-hidden gems! This 350-acre park boasts plenty of open space for you, your family, and your pups to roam around in. It is also home to the annual Kite Festival and offers spectacular views of the downtown skyline.
4. Music. In a location that used to be considered out of town, South Lamar's Broken Spoke (reported to be the best Honky Tonk in Texas!) is a great place to experience authentic Texas culture in one of its most beautiful and lively forms -- country music and dancing! Use this as an opportunity to step back in time, opening your eyes to experience a bit of true Texas past. Don't know how to two-step? Don't worry! Broken Spoke offers lessons throughout the week, and if you find yourself in the crowd, just ask someone to show you the ropes.
South Austin is a wonderful place to find yourself or even create yourself. Find that neighborhood that is just perfect for you, or even just venture down for a day of delicious eating and fun! In any case, you're sure to love the weirdness.